The Gordon and Barney Show
Edit
Created by Vahe Torosyan aka thev100 on Youtube. "
The Gordon and Barney Show
" is a
Half-Life 2
and
Garry's Mod
machinima series that takes place in the
Half-Life
universe and revolves around
Gordon Freeman
and
Barney Calhoun
, two characters from the Half-Life series. Each episodes have different and humorous plots.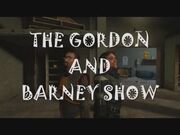 Link to thev100's Youtube page in order to watch the whole series (direct link to the Youtube playlist): http://www.youtube.com/user/TheV100?feature=mhw5#p/c/E7FF4B72C8C7F4E1
As explained, each episode has different and comical plot that revolves around the Half-Life universe.
The music used in the series is stock production music, specifically Ren and Stimpy Production Music and music from the Half-Life game soundtracks.
The Gordon and Barney Show - Episode List

| | | |
| --- | --- | --- |
| Episode Number | Title | Plot |
| Episode 1 | Teh Internets | Gordon and Barney look at internet phonomena. |
| Episode 2 | Missing Crowbar | Gordon loses his crowbar. |
| Episode 3 | Blue Oyster Bar | Gordon and Barney mistakenly enter a gay bar. |
| Episode 4 | Calhoun Cinema | Barney does a movie. |
| Episode 5 | Barney The Housekeeper | Barney watches the house while Gordon and Alyx go out. |
| Episode 6 | N/A | N/A |
Ad blocker interference detected!
Wikia is a free-to-use site that makes money from advertising. We have a modified experience for viewers using ad blockers

Wikia is not accessible if you've made further modifications. Remove the custom ad blocker rule(s) and the page will load as expected.